Our Origins and Vision
The Mitchell River Watershed Management Group emerged out of a conference on watershed management held in Kowanyama in 1990. The catalyst for this conference was the concern Traditional Owners felt for the Mitchell River's health during the 70's and 80's. As the elders made more regular trip to Cairns by air, they were able to see the extent of land clearing for grazing and damage to the river by mining.
Colin Lawrence, UwOgkangand Elder, expressed their vision for the Mitchell catchment at Kowanyama as:
"We want to see our country healthy. Waterholes still with waterlily and lagoons healthy. We want to see our country looking beautiful ...like it was when we first had it. We don't want it to be run down and buggered up altogether. We want to make sure that young children say, this is what the old people used to tell us about."
Our Vision
The organisation's founding principles support this vision and include:
A cooperative approach to management of the catchment;
Sustainable management of natural resources;
Maintaining and enhancing catchment biodiversity; and
Creating a balanced approach to the use of catchment's resources
It is important to have all members of the community working on local projects, therefore MRWMG works with Traditional Owners, pastoralists, schools, researchers and research organisations as well as tourism, fishing, mining, conservation and local, state and Australian government organisations to help secure a sustainable future for the Mitchell River catchment.
Who We Are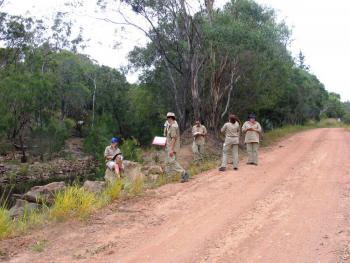 The Mitchell River Watershed Management Group (MRWMG) has evolved into an independent, not-for-profit organisation responsible for grass roots community engagement, capacity building and sustainable and integrated management of the Mitchell River catchment area.
The group has broad representation from all stakeholders, including local councils, industry groups, State Agencies and other Landcare Bodies.
Notably, the MRWMG works with the Irvinebank Landcare Group and Progress Association, the Julatten and Molloy Association of Residents and Ratepayers, and the Kowanyama Land and Natural Resource Management Office, whilst actively engaging with the Traditional Owners of the Mitchell catchment and their representative groups.
What We Do
MRWMG works in partnership with Traditional Owners, local communities and landholders to set-up water schemes, re-vegetate degraded sites, protect areas of high ecological value, develop cooperative management plans for fire, feral animal and weeds, conduct tree plantings, run education and youth programmes at local schools and raise community awareness of ecologically sustainable development.
Working in Partnership
The Mitchell River catchment area spans two Natural Resource Management regions: the Northern Gulf region managed by the Northern Gulf Resource Management Group and the Cape York region managed by Cape York NRM and is adjacent to the Wet Tropics region managed by Terrain NRM. As the Mitchell catchment is managed by two NRM regional bodies across four bioregions, MRWMG works closely with both of them and provides a round-table forum to discuss and exchange ideas and information.
Funding
Historically, the MRWMG has been funded by the Australian Government's Natural Heritage Trust programme, then Caring for Our Country, and the Queensland government's Everyone's Environment Grants program. Other funding comes from delivering services to other groups such as Northern Gulf Resource Management Group and Cape York NRM.
We are currently funded through a mosaic of opportunities, including the Community Benefits Gambling Fund, in-kind support from Mareeba Shire Council, Landcare, and the Everyone's Environment Grants programme.
Deductible Gift Recipient
Mitchell River Watershed Management Group Inc maintains a public fund for receiving tax-deductible gifts. If you are interested in a philanthropic gift or bequeathing a charitble donaiton, please contact us via: secretary@mitchell-river.com.au