Preventing the Spread of Tilapia and Exclusion Screens on the Walsh Irrigation Channel
The pest fish Tilapia is well established in Tinaroo Dam and the Barron River, which caused serious concerns about its possible spread down the Walsh River in irrigation waters and then into the Mitchell and the Gulf of Carpentaria.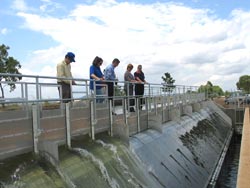 After extensive lobbying of the Department of Natural Resources and Sunwater (the water supply agency) by both MRWMG and the Barron Catchment Group in 2002-3 the government spent $1.2 million on Tilapia exclusion screens in the main Walsh irrigation channel. These screens became operational in November 2004 and have controlled one of the major pathways for Tilapia to enter the Mitchell catchment.
However, the public could still transfer Tilapia into the catchment as live bait or deliberate introduction and they were detected in Eureka Creek during a regular monitoring program. A successful eradication campaign was carried out in October 2008 by dosing a five kilometre section of the creek with Rotenone. This also killed any native fish left in this section of the creek after an electrofishing and removal campaign, but they have very successfully recolonised it since.
Only on-going public cooperation and vigilance will prevent this pest fish causing as much damage to native fish and the aquatic environment in the Mitchell catchment as it already has in other Queensland catchments. If you catch a fish that looks like Tilapia, take a photo of it, or put it in a plastic bag, contact the Pest Fish Hotline on 13 25 23 or 1800 017 116 (A/H) and pass the photo or fish on to someone who can confirm the identification and take action.